Mobile Phone External Antennas, Car Kits, Cradles And Car Phone Holders
Need to boost your mobile phone reception while you're in the car? Do you want less call drop outs? Our mobile phone antennas and cradles let you can maximise your coverage so you don't get stuck without reception. These can be used in the car or at home, office or when you're out and about.
Holding your mobile phone while you're driving is illegal and dangerous. This practice can also be expensive, costing you money in the form of a fine and demerit points. Weighing up the risk to yourself and others as well as to your wallet, a mobile phone cradle, holder or mount is a smart investment if you talk on the phone while driving and want to stay on the right side of the law. That's one reason why you need one of these in car phone holders and antennas. And if you need to boost your 4G/3G mobile broadband click here to view our mobile broadband antennas.
Car Cradles, Phone Holders And Car Kits
Car Phone Holders And Car Phone Mounts
A car phone holders or car phone mounts as they are also known as is a cradle that is a mobile phone holder for the car. Some are attached to the windscreen or dashboard by a suction cup, others are vent mounted or dashboard mounted. Being versatile and having several mounting options allows you to have your phone where you need it.
Mobile Phone Car Kits, Car Cradles And Antennas
These cradles are the perfect addition to your vehicle. They will work with your car's inbuilt Bluetooth or if you need one will work perfectly with one of our Bluetooth car kits. We have car mounts, cradles and holders for iPhones, iPads, Samsung, ZTE, Telstra, HTC, Sony and many other mobile phone brands. We also have universal car holders that you can adjust the size of so it will fit almost any mobile phone. These are ideal dashboard and vent mounted phone holders. Our car cradle range includes the Strike Alpha cradle range and other leading brands so you'll find the best car phone mount for your requirements.
Confused? Don't be, we are confident and know that you will find the right phone cradle and antenna option here. We have antennas for your car, home, office, caravan, boat and even when you go hiking.
Your phone slides snugly into the cradle, with a charging connector coming from cradle to charge your phone. This sung fit lets your phone connect to the charging connector without any fuss. With these cradles you have the choice of professional installation or a Do It Yourself option. We also have cradles that have been engineered to hold your phone while it's in a protective case like an Otterbox, LifeProof, Griffin, Strike or Apple case.
Strike Car Cradles
With Strike's Alpha DIY cradles (as the DIY version is a windscreen or dashboard mounted units) you can use your smartphone as a powerful Dash Cam. All you have to do is put your smartphone into the cradle which has a fully adjustable windscreen mount, use a Dashcam app on your phone and you can record video, speed, location and even impact levels! For Android devices, you can download AutoGuard Dash Cam App for free and there are Dash Cam Apps are also available for free download for the iPhone's, iOS. The Alpha cradles will charge your phone or tablet, also provide a stronger signal when teamed with one of our antennas, will allow you to use your phone as a dashcam and will securely hold your phone. Or if you are after just an in car phone holder have a look at our universal cradle range for the perfect mobile car holder.
We have a selection of universal car phone holders which are car phone mounts that keep your phone mounted on the dash or vent. No matter what style you are after we have the best mobile phone holder for your car.
Our range of car kits, cradles and external antennas have been designed for many smartphones and tablets. These custom fitted cradles or mounts are made to fit specific devices including the brands listed above. Simply click on the brand to see which devices we have car phone cradles for.
Mobile Phone Antenna For Cars: Cellular Antennas
You can connect an external antenna to your phone with one of these car cradle kits and increase the reception and range of your mobile phone. These high performance cradles provide an improvement mobile reception and resultant increases in signal range and call quality.
The Alpha car phone holder and cradle range will happily accept input of between 12-24 volt input and will provide five volt, two amp output for charging. This range of input voltage makes them a great choice for a range of uses, including cars, boats, trucks, caravans, tractors, forklifts, and even in planes. These cradles have are used in a wide variety of industries including: agriculture, aviation, caravanning, construction, defence, education, mining, marine, medical, warehousing and in offices. There are also a wide variety of mounting solutions for these cradles so you will be free to mount the holder wherever you desire. There are dash and swivel mounts, windscreen mounts and console mounts. This means you will certainly find an option that best suits you and your vehicle or application. You'll definetly find the best mobile phone antenna for your application within our range of aerials.
The female USB connector at the bottom of the Alpha cradle has active data pins which means that not only will the cradle offer charging for your device, but it will also provide a connection to a computer, car kit and other devices via an additional cable.
There is an Android App for these holders that will connect with NFC capability your car cradle and with this app you can customise your setup. You will be able to schedule your phone or device to launch particular apps when it is placed into your cradle. This outstanding feature makes these mobile phone car holders the most advanced on today's market.
Using Your Strike Alpha DIY Cradle As A Dashcam
Would you like to save money, time and reduce the amount of clutter in your vehicle simply by using a Strike Alpha DIY Car Cradle as a Dash Cam? This is the perfect compliment for your mobile device as it's the perfect tool to transform your smartphone into a dash cam. Why should you spend money on a stand-alone camera when your phone can do a better job? Combine an Alpha DIY Cradle with your smartphone and a free Dashcam app and you have a powerful, efficient and smart looking cradle and dashcam unit that will charge your phone while you're driving. All you need to do is place your smartphone into the car cradle. These cradles come with a fully adjustable windscreen mount and can even be mounted on your dashboard (see the below video) so you can angle your phone's camera in any direction.
When you use one of the Dashcam apps that are available for free you can record video, your speed, your location and even impact levels (hopefully though you'll never need to record impact levels)! You're phone will also be able to: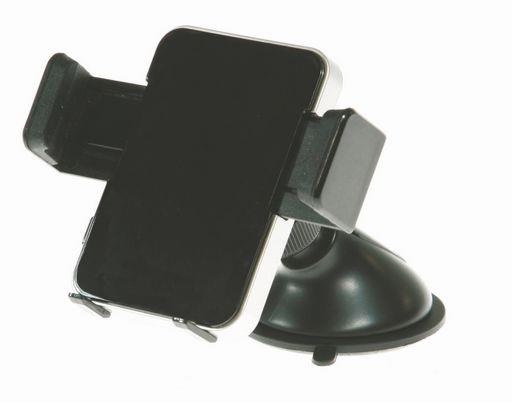 Automatically start and stop recording at the correct times
Automatically call someone in the event of accident (again hopefully you'll never need this option)
Automatically upload your latest trips to YouTube or other file sharing platforms
Automatically overwrite old footage so your phone does not run out storage
Take a still photo with the touch of your screen
Display your cars location using GPS
Send your recorded info via email

When using one of these available Dashcam Apps and a Alpha DIY Cradle, you'll have a more accurate GPS and a stronger mobile signal (when using one of our antennas) . You also have the ability to angle your camera phone in any direction.
Use one of these cradles and start recording your trips and maximise the use of your smartphone with Strike Alpha Dash Cam and Cradle's 3 in 1 smarter solution: Secure, charge and record. You'll see that these cradles are the ideal smartphone car mount!